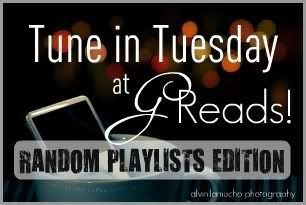 Tune in Tuesday is a weekly feature hosted by Ginger of
G Reads Books
.
This month's special topic for Tune in Tuesday is Random Playlist.
To participate:
Random Playlists Special Edition: Open up your music library (iTunes?) and pick a song at random from your collection to feature with us. The choice can be as eclectic as you want it to be! Share one song, or share a couple songs. (copied from
Ginger's Features Page
)
So....here ya go! This week, I decided to make a short playlist, and here is what I came up with when I put iTunes on shuffle....
1. About 10 chapters from various Harry Potter audiobooks
(my favorite Hillywood Show episode...MIIIIIIIIS)

2. Margarittaville by Jimmy Buffett

3. Fishing in the Dark by the Nitty Gritty Dirt Band
This song screams "Summer!" to me

4. Stop! In the Name of Love by Diana Ross and the Supremes

5. Young by Kenny Chesney
Watch that and try not to do the "woo woo" part...

6. Accidentally in Love by Counting Crows