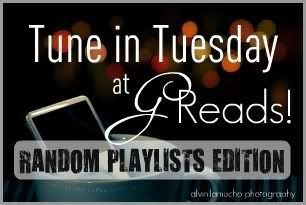 Tune in Tuesday is a weekly feature hosted by Ginger of
G Reads Books
. This month's special topic for Tune in Tuesday is Random Playlist.
To participate:
Random Playlists Special Edition: Open up your music library (iTunes?) and pick a song at random from your collection to feature with us. The choice can be as eclectic as you want it to be! Share one song, or share a couple songs. (copied from
Ginger's Features Page
)
So, you know how you shouldn't judge a book by its cover? Well, you shouldn't judge a song by its cover (or the cover by the original). My playlist for today includes my favorite cover songs....
Addicted To Love covered by Florence + the Machine
Ain't No Sunshine covered by Me First and the Gimme Gimmes (really, any song by them)
Barbara Ann covered by the janitors on Scrubs

Everyday People covered by Joan Jett and the Blackhearts

Flowers on the Wall covered by Eric Heatherly
Hey Ya covered by Obadiah Parker
I Will Always Love You covered by Stephanie Block
Yellow covered by Jem
What's your favorite cover?