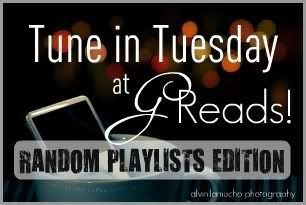 Tune in Tuesday is a weekly feature hosted by Ginger of
G Reads Books
. This month's special topic for Tune in Tuesday is Random Playlist.
To participate:
Random Playlists Special Edition: Open up your music library (iTunes?) and pick a song at random from your collection to feature with us. The choice can be as eclectic as you want it to be! Share one song, or share a couple songs. (copied from
Ginger's Features Page
)
So....here ya go! Here is my random song for the day!

Rumor Has It by Adele
I love Adele's voice, its so unique! When I heard first heard this song, I thought, "Oh poor thing. Her guy is cheating on her." Then when I got to the ending, I thought, "OH! She's leaving him! Good for her!" And then t
o hear Adele at the beginning of this clip explain that its really a song about idle chitchat (gossip) puts it into a whole different perspective for me.