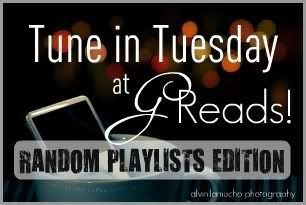 Tune in Tuesday is a weekly feature hosted by Ginger of
G Reads Books
.
This month's special topic for Tune in Tuesday is Random Playlist.
To participate:
Random Playlists Special Edition: Open up your music library (iTunes?) and pick a song at random from your collection to feature with us. The choice can be as eclectic as you want it to be! Share one song, or share a couple songs. (copied from
Ginger's Features Page
)
So, after sitting through proctoring state mandated testing for the last week and a half, I needed to listen to some positive songs...or my version of positive...something to perk me up. Here ya go:
Keep Your Head Up by Andy Grammer
Always Look on the Bright Side of Life by Monty Python
The theme from Footloose by Kenny Loggins
The theme from Caddyshack (I'm alright) by Kenny Loggins
Ob-la-di, Ob-la-da by The Beatles
U Can't Touch This (I listen to the Glee version, but MC Hammer is good too)
So, youtube is acting up on my computer today and running really slow, so for now, I don't have the videos to go with the songs. If I get time later, I'll update with videos.
What's on your playlist?